TOREX TABLETS
Torex tablet is an effective combination that works to relieve cough miseries. It contains combination of Chlorpheniramine which is anti-histaminic, Dextromethorphan which is an antitussive drug, Guaiphenesin which is an expectorant and Bromhexine which is a mucolytic agent.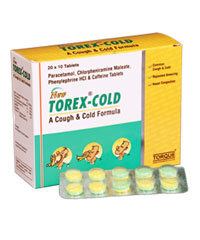 TOREX COLD TABLETS
Paracetamol - Antipyretic
Phenylephrine Hydrochloride - Decongestant
Chlorpheniramine Maleate - Anti-histamine
Caffeine - Stimulant
Torex Cold Tablets help in the treatment of nasal and sinus congestion, sinus pain and headache, allergic symptoms of the nose or throat due to upper respiratory tract allergies.