Dry Cough/Non-Productive Cough: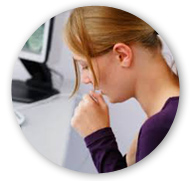 There is no phlegm or no sputum production. The throat and upper airways become inflamed. It is of three types:
Dry hacking cough - A short, weak repeating cough, often caused by irritation of the larynx by a postnasal drip.
Barking cough - Also called Croup. It is a viral infection that results in swollen vocal cords and throat.
Whooping Cough - Another name for pertussis, an airways infection caused by the bacteria called Bordetella pertussis. The patient coughs continuously, after which there is a characteristic whoop sound and a strong intake of breath.